Tru-Spec Parka Waterproof
Watch this product and we will notify you once it is back in stock.
Tru-Spec Parka Waterproof
En skön Parkas från Tru-Spec med avtagbart fleecefoder som även kan bäras separat som en fristående jacka.
I dåligt väder är prioritet nummer ett att hålla sig varm och torr. Tillverkad av ett trelagers vindtätt, vattentätt material som andas med ett Advanta™ innerfoder. Hemligheten med våra nya parkas är de högkvalitativa, miljösäkra Bemis sömbanden.
Sömtejp är den kritiska länken i kedjan av vattentätt skydd och Bemis är den erkända världsomspännande teknikledaren för att tillhandahålla termoplastfilmer för en myriad av industriella applikationer.
Horisontella bröstfickor med dolda blixtlås. Båda fickorna har löstagbara id-korts flikar med kardborre-fästen.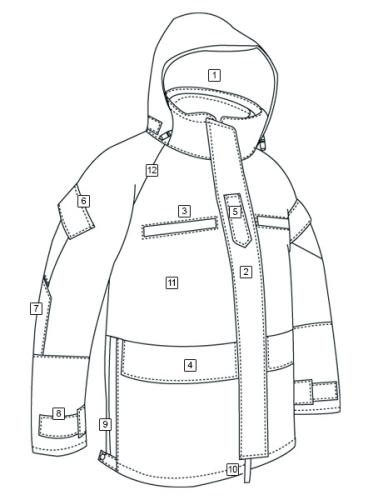 FUNKTION
Stå upp blixtlåskrage med förvaringsbar huva och dragsnören
Frysfri tvåvägs dragkedja framtill med dubbla stormklaffar och snäppstängning
Horisontella bröstfickor med dolda dragkedja och avtagbara ID-flikar med kardborrefästen
Stora fickor framtill med hake & look stängningar
Insignier/emblemögla på framsidan av stormklaffen
Övre ärmfickor med kardborrstängningar
Förstärkta armbågar
Justerbara ärmslut med kardborrstängningar
Sidodragkedjor i jacka och foder för att komma åt bälte eller fickor under
Vindkjol med elastisk fåll, dragsnöre och tryckknappsstängning
Advanta™ innerfoder
Bemis tejpade sömmar
Try any TRU-SPEC® H2O PROOF New and Improved Outerwear with confidence!
TRU-SPEC® TRU-CONFIDENCE GUARANTEE - The 2 year TTC Guarantee: If you are not completely satisfied with your TRU-SPEC® H2O PROOF outerwear for any reason; return it to TRU-SPEC® for a full refund of the purchase price. Restrictions apply, see TRU-SPEC® warranty for complete details.